'Lesser known' is always relative. For some, the staples of that early Gothic period (The Castle of Otranto, The Mysteries of Udolpho, The Monk and Melmoth the Wanderer) are new acquaintances. For others, I could bring up the most obscure authors (T. J. Horsley-Curties and Elizabeth Meeke anyone?) and they'd scoff at the obviousness of my choices. My intention today is to try to find a middle ground: books that may be well-known to some but generally fall through the cracks a little if you're listing off the most famous books of this early Gothic period (1764 – 1830). For those totally immersed in the era, they'll be obvious. For those beginning their exploration, they might be a bit obscure. For those who've read the obvious classics, it will hopefully provide a handy little guide of where to look next. I'll be picking lesser known books by famous authors and other works which are important in the history of the Gothic or were wildly popular at the time but have somehow been left a little bit behind.
1. The Old English Baron – Clara Reeve – 1778
I'm going to start off chronologically. The Castle of Otranto by Horace Walpole, written in 1764, is frequently considered a kicking off point for the genre. One of the next major steps in the development of the Gothic was Clara Reeve's The Old English Baron, published in 1778. Well, that's the more well-known title. It was actually originally published in 1777 as The Champion of Virtue but a year later the title got an overhaul and the book garnered a great deal more popularity. Reeve places her medieval tale as a successor to Otranto but one that remedies what she considers the stylistic mistakes of Walpole's work. No giant helmets, disembodied arms, walking portraits and ascending saints for Reeve. Instead, she aims to mix the fantastical with the realistic while keeping all examples of the supernatural 'within the utmost verge of probability'. It's a vital step in the continuation and development of the Gothic, laying the groundwork for the grand Gothic Enchantress 'Ann Radcliffe' by moving away from the overt and excessive supernaturalism of Walpole.
It's a tale of usurpation and murder, hidden pasts and courtly love. Follow nobleman-who-thinks-he's-a-peasant Edmund as he discovers the fate of his family, survives the machinations of his host family's young relatives, jaunters off to France for a bit of war and allows his father's old friend to avenge his honour and reclaim his inheritance. There are dreams, ghosts, magically opening doors and about a hundred pages of legal proceedings. Irresistible.
You can find an online copy here.
2. The Recess – Sophia Lee – 1783
Next up in chronological order, it's The Recess, or A Tale of Other Times by Sophia Lee from 1783. The claim that this is a Gothic novel is a bit more dubious, I'll be honest. It's often regarded primarily as a work of historical fiction that creates an alternate history of the Elizabethan period, mixing real historical figures in with its fictional protagonists (and causing a bit of uproar about its seeming fictionalisation of the past). By the way, if anyone tells you that Walter Scott was the first historical novelist, it's really not accurate at all. Not even Lee was the first. Longsword, Earl of Salisbury by Thomas Leland (1762) is an earlier example and one which has been eyed as an alternative candidate for first Gothic novel. Lee though is an important figure in the development of the historic novel way before Walter Scott started wielding a pen and she was also, arguably, a key figure in the development of the Gothic.
For all it's considered a work of historical fiction, there are certainly some Gothic features. The heroines Ellinor and Mathilda (fictional daughters of Mary, Queen of Scots) grow up in an underground recess once used by monks. Each one undergoes various vicissitudes which take them all over the world and lead to imprisonment, the murder of those close to them and even eventual madness. There are constant motifs of imprisonment. Their lives are never even for a second not in peril. There may not be any ghosts, or even a hint of their appearance, but Gothic thematics, aesthetics and motifs run throughout the book. In The Recess, with its tales of persecuted heroines, diabolic plots and deadly peril, we find a prototype for the Gothic which would come to the fore in the 1790s: female-centred and heavily focused on the survival of persecution, male perfidy and mysteries of inheritance and identity, as well as frequently featuring a great deal of travel. After all, women might not have many opportunities to travel, nor was it widely considered essential for the development in the same way as it was for rich young men, but if they were being pursued across Europe, you could hardly blame them for their impromptu sightseeing, could you?
If you like your books in the form of incredibly long letters (each of the sisters tells her own part of the story from widely differing perspectives), love a bit of alternate history, can cope with an ever-worsening series of events which allow no happy ending – it might be for you. Turns out, leaving the shadowy and claustrophobic underground recess they grew up in with only a frowning priest and a gentle lady for company was probably the worst decision they ever made and the start of endless catastrophe. You have been warned.
You can find an online copy of it here.
3. The Children of the Abbey – Regina Maria Roche – 1796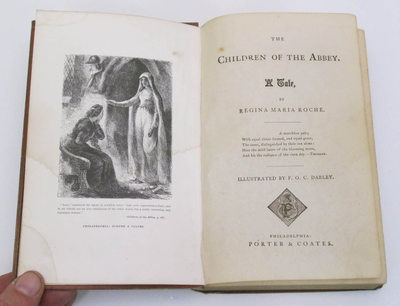 When we talk about Gothic women writers in the 1790s, we often zero in on Ann Radcliffe but she wasn't the only one. Nor were other writers simply imitators, taking a successful formula and reproducing it. Imitators existed, of course, but other writers, like Eliza Parsons, Regina Marie Roche and Charlotte Smith were also writing at the same time – arguably building together many of the foundations of the genre. Regina Marie Roche's The Children of the Abbey was published in 1796 (the same year as Radcliffe's The Italian). Ghouls and ghosts are notably absent and it isn't her most Gothic novel (that honour falls to Clermont from 1798) but it's a great example of a novel written at the same time as Radcliffe was working, which almost outdid her in popularity and sales, and proves that there was a significant degree of diversity among the supposedly cookie-cutter Gothic novels written by women of the period.
Radcliffe's largely European settings are exchanged in the book for a tour of the British Isles and Ireland. Our heroine Amanda starts off in Wales, wanders into England, pops across to Ireland and discovers the secret off her past in Scotland. Her brother Oscar is also involved in his own troubles. Troubled affairs of the heart, misunderstandings, the dastardly Belgrave, family tragedy, a terrifying old lady trapped in a castle, and a group of friendly nuns are just some of the things you can expect. Amanda's journey to happiness is fraught with her beloved Lord Mortimer being an absolute muppet; random promises to her father to leave Mortimer behind for no apparent reason; Belgrave popping up like a jack-in-the-box to attempt kidnap or seduction; temporary destitution ('sleeping in a doorway and being mistaken for a prostitute' style destitution); and the mystery of her inheritance. A couple of things that make this particularly interesting: everyone gets a sort of redemption arc, even Belgrave; it's one of the most pro-Catholic of the early Gothic works; Amanda's brother gets his own broadly independent storyline with a lady whose hand is not free; and you get a sympathetic representation of 'fallen' or erring women, one of whom even gets a second chance.
It's a long read but a pretty good one (although you will DEFINITELY want to kill Lord Mortimer after about 10 minutes) and you can find it here.
4. Mandeville – William Godwin – 1817
We're taking a bit of a time jump here to 1817. William Godwin (political philosopher, father of Mary Shelley and husband of Mary Wollstonecraft) wrote a number of Gothic novels and this is arguably one of the least famous. The ones that usually find their way onto reading lists are Caleb Williams (1794), which tells the tale of a man who finds out his employer's terrible secret and is pursued unremittingly thereafter, and St Leon (1799), which recounts the tale of a man who gets the philosopher's stone and the elixir vitae handed to him with disastrous consequences. I'm going to recommend Mandeville though because, as far as I'm concerned, it should be the most famous of all.
Now, I may be biased in loving Mandeville above the others. It's deeply engaged with the theo-political controversies of the 17th century and that's very much my thing. However, it's also an extraordinary tale written from an incredibly intriguing narrative prospective. What the narrator doesn't know is that he's the antagonist of the story and he's gradually descending further and further into the darkness. It's one of the first novels (if not the first) written from such a narrative perspective and that's why it gets its place on the list! Expect childhood trauma, humiliations, thwarted ambitions, tales of treachery and war, cynical machinations, a very ill-fated duel and the creation of an arch-villain.
There's no easily available online copy but Broadview do a great edition if you're looking for a physical one.
5. The Last Man – Mary Shelley – 1826
The last entry on today's list is perhaps the most well-known. Certainly, the author is the most famous. Mary Shelley wrote her apocalyptic tale The Last Man in 1826 after the success of her most famous novel Frankenstein. The Last Man used to be relatively obscure but it's come to the fore more recently because it features a pandemic which wipes out the earth. A bit too topical for comfort right now, perhaps.
Shelley was always breaking new ground and The Last Man is no exception. It's an early sci-fi book (which adorably predicts we'll still be weeping all over the shop from an excess of sensibility and floating around in hot air balloons well into the future), an early apocalyptic pandemic narrative and it's also incredibly curious in terms of narrative structure. The set up is that Mary and Percy found the story in the cave of the oracle (on the Sibylline leaves) written on scattered leaves. It's an incomplete prophecy written long before they were born about a future which is still far distant and takes the form, effectively, of a diary. The increased desperation of the main characters, the spreading panic, the growing despair, the sense of futility and the inevitable tragedy are all as Gothic as can be and all a little too familiar right now.
Hopefully this list has given you a place to start in further investigations of the Gothic. If anyone is interested, I can also do a beginner's guide to the most famous texts of the period but this list is meant to help you go a bit deeper. I hope you enjoy the exploration!