The Romancing the Gothic project runs a monthly 'Day of Creation'. It includes workshops and author, art and film showcases. It's free for all and you can attend as much or as little as you want.
This month we're looking for art and writing for showcases and workshops. All opportunities receive a small payment and links are shared for individual support.
The Focus
This month, Romancing the Gothic has been collaborating with Johannes T. Evans (@JohannesTEvans) with the #MonstrousMayChallenge. Johannes created a series of detailed prompts, seen below.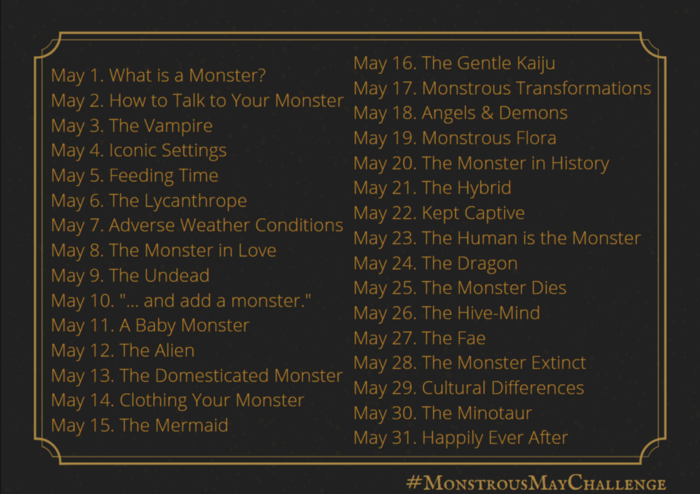 For this month's Day of Creation (29th May), we are looking for contributions that develop one of the above friends
Submissions
We are looking for short stories and poems for the creative showcase. There are two author showcases, at 11am and at 7pm London Time (we can be flexible if required) and we are looking for readings of:
Approx 1000-1250 words
12 minutes or less in length
Focusing on one of the themes above
We are also looking for workshop sessions on arts, crafts, writing or other creative engagements with one of the topics above. Support offered for online teaching or presenting/public speaking where desired.
Workshops are:
1 hour long
Focused on interaction with participants and the opportunity to create/write
Open to all levels of engagement
Authors participating in the showcase will be recompensed £10 and workshops will be recompensed with £20. You can also use this opportunity to share support links, promote work and events. There is the option to record your session (author showcase and workshop input) to go on the YouTube channel and be shared. All rights remain with the creator.
Deadline for pitches: 24th May 2021
For the story, please send a copy of the story. For the workshop, please send a 100 word pitch.
All submissions can be sent to sam@romancingthegothic.com