Gothic reminiscences usually involve a wistful longing for remote past or memories of inarticulable terror. Happily my particular reminiscences today are going to be a great deal more cheery! The reminiscences are Gothic in all the good ways – not a remembrance of the lost but a celebration of our creepy little community. Well…not so little.
I won't rehash again the story of Romancing the Gothic because there's an earlier blog here and an article here which does just that. What I am going to do is a bit of a top ten of some of my favourite Romancing the Gothic moments. There are so many and I've loved every talk and event so it's hard to pick but I'm going to highlight things that have impacted me the most – whether it's introducing me to new writers, changing the way I think or fulfilling a dream!
10) Mexican Mummies in Guanajuato
I had to put the Mexican Mummies up here because it's a bit of a two-fer. Abraham Castillo Flores' talk 'Testament of the Mexican Mummies' introduced me to a whole historical reality and trope that I had no idea about. Our group watch-along of Mexican Horror that week, including Las Momias de Gaunajuato, introduced me to the amazing genre of the wrestler/mummy movie in Mexican cinema and my life will never be the same. Shout out as well to Valeria Villegas Lindval and her talks 'Bruja: The Allure of the Gothic Witch in Mexican Horror Film' and 'Argentinian Horror Cinema' which introduced me to a whole world of cinema I had little knowledge of. On Valeria's advice we also watched 'Alucarda' (alucinante) and El Baron Del Terror (or The Brainiac in English) which brought much delight.
9) Byron, Manfred and the Transgender Self
You all know that I'm an early Gothicist by trade, which encompasses the late eighteenth and early nineteenth centuries, so I'm always going to have a soft spot for scholarship from that period and it's somewhat inevitable that one of my favourite moments was a class on that period. What a great class though! Julia Ftacek lecture on 'Byron, Manfred and the Transgender Self' suggested new ways of reading to me and opened up a door into historical studies of trans-femininity in particular.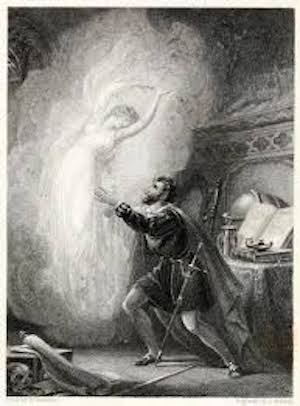 One of the things that I love about Romancing the Gothic is that it is a queer-friendly space where I've felt comfortable and which has hopefully felt like a safe and inclusive place to both speakers and participants. A place to explore queer studies, texts and readings. This project has been a great opportunity to hear and speak to people working in queer studies and on queer representation from talks on 'Neo-Victorian Queer Romance', to 'Bisexual Representation in Post-Millennial TV' , to 'Victorian Queer Gothic', to 'Gender and Adapation in the Hannibal Lector Series' to a writing workshop on 'Non-Binary Representation' from E K Gonzales (you can see a version of their talk here). I even got the confidence to do my own overview of 'Queer Gothic Reimaginings' where I was able to explore all sorts of things including Asexuality and Horror. Perhaps my favourite thing about Julia's talk was inviting a student who'll be studying Byron with me next semester and getting to see scholarly connections made in real time and a whole world of readings, beyond the narrow confines of what gets covered in our university's curriculum, open up.
8) Ghost Dogs to the rescue
One of my favourite author discoveries this year, and it came about through Romancing the Gothic, was Darcie Little Badger. Thanks to Madelyn Schoonover for the recommendation! We read a number of Darcie's short stories for book group: Owl vs. The Neighbourhood Watch, NKÁSHT ÍÍ, The Whalebone Parrot, Né łe!, Skinwalker, Fast-talker and The Famine King. I absolutely fell in love with her writing and the understanding of ghosts found in her work. My favourite story was probably NKÁSHT ÍÍ and I 100% recommend reading it…although possibly not late at night! Darcie is also the loveliest, most generous person and visited us at every book group! We had another Darcie read later in the year because her novel was released and we pounced on it immediately! Elatsoe is also fantastic and if you're interested in ghost dogs and mammoths, murder mysteries, hauntings rooted in Lipan Apache beliefs and ace heroines… highly recommend!
7) Salem's Ghosts
We've had a variety of different speakers joining us for talks this years and one particularly enjoyable subset has been the tour guides who have joined us. I feel like I've been mostly stuck in my house for 9 months so our talks from tour guides have given me a little escape, taking me to new places and presenting me with new information. We had a tour of Gothic New York from Leanna Renee Hieber (who has been incredibly generous with her time and also visited book group AND given two writing workshops!) and a tour of Vampires in New Orleans from Rose Sinister. The tour-guide visit that had the most impact on me though was Sebastian Crane's 'Ghosts of Salem'. Like our other tour-guide talks it was engaging, fascinating and, at times, a little spine-chilling but it was a stand out for me because it rewrote my relationship with Salem. I visited there years ago and was really uncomfortable with the way what I saw and heard represented and sensationalised a historical tragedy. Sebastian's talk was a master class in how to approach the historical context with respect and nuance providing a thought-provoking, challenging and enchanting tour of Salem. So thanks for rewriting a bad experience and showing what ghostly engagement with history can be!
An extra shout-out to Sebastian for doing some of the commissioned art for Romancing the Gothic including this wonderful illustration of one of the stories I shared for our readalongs 'The Blood on Her Lips'. Romancing the Gothic has given rise to quite a bit of artistic brilliance and you should also check out 'trie blasingame's art out as they've produced some fun Romancing the Gothic themed merch for their Redbubble.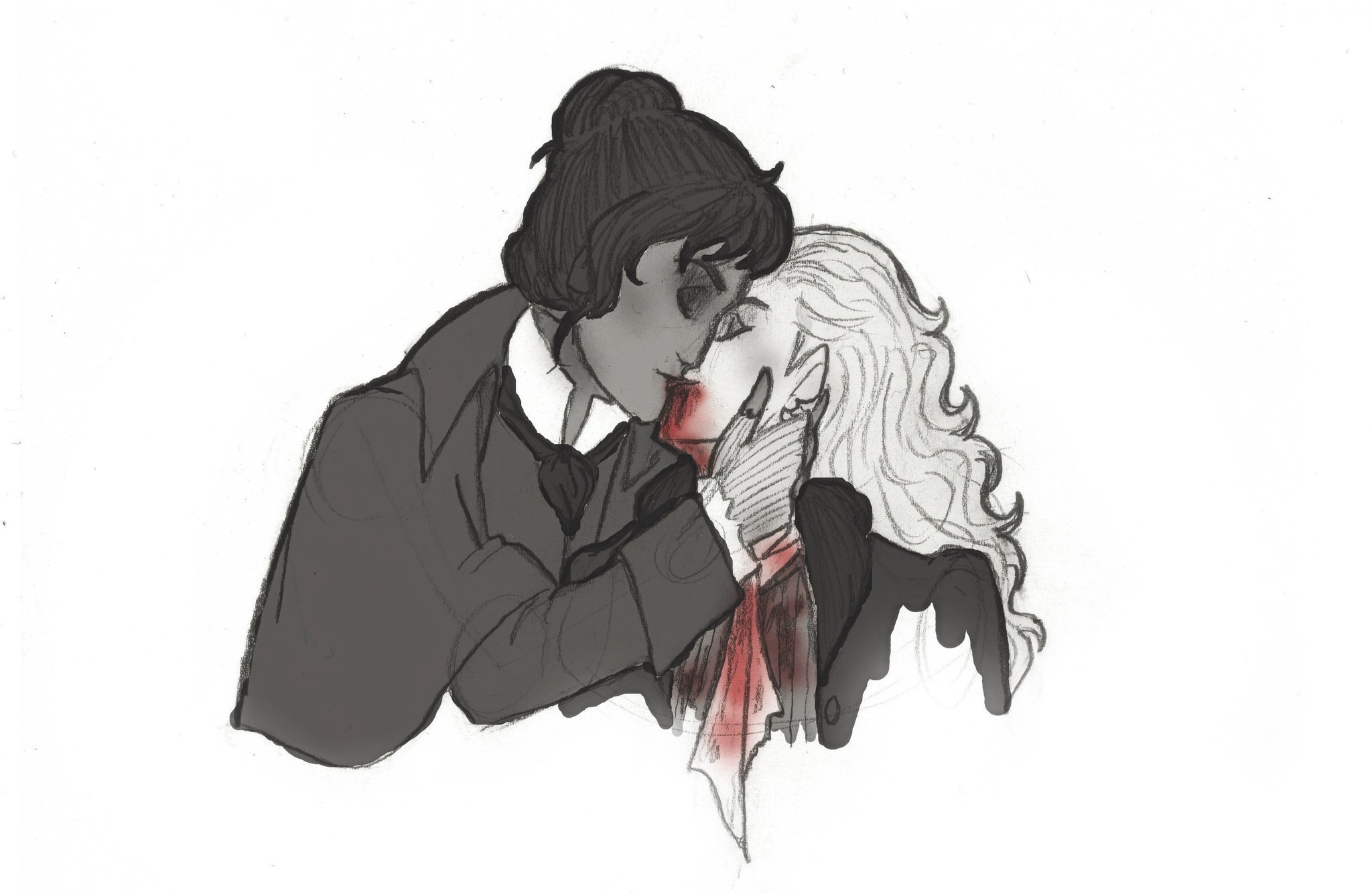 6) Gothic Ballet
I studied Russian at school and was lucky enough to go on a school trip to Russia as a teen and had my first experience of the ballet at the Bolshoi. I hated it. I found it incredibly dull. I couldn't really see. I definitely didn't understand what was going on. I kept trying to follow along and thought 'it must be over' only to realise there was another 30 minutes to go…before the interval. In other words, despite being introduced to ballet in one of the most prestigious theatres in the world with one of the most noted companies… I felt completely alienated from ballet. I'd tried to go again (again in Russia) and been just as clueless again. Karen Graham's talk on the Ballet Gothic was a revelation to me because for the FIRST time, I understood something. Karen took us through some scenes explaining what we were seeing and drawing out the beauty for me. It absolutely and completely changed my understanding of ballet so I very much recommend if you are, like me, not a fan.
5) Medieval Murder Detectives
One of the most fun things I've done this year was take part in the Murder Mystery class run through Romancing the Gothic with Melissa Julian-Jones. Using the murder of William Cantilupe as a starting point we were immersed in contemporary history, got to hear a damn good story and acted the part of murder detectives. Frankly, an amazing time. I also completely stand by my interpretation…though it had absolutely zero basis in the evidence! I've always loved murder mysteries and getting to play Cadfael was fab fun.
4) Heyer and the Gothic (Dream Achieved!)
No-one would ever know but I'm a long-term Heyer reader. I hide it well and never in any way bore people to death with my references… One of my own little personal missions in life is to widen out the discussion around the intersection of the Gothic and romance, moving away from an over-whelming emphasis on one model of that intersection (the Jane Eyre model) in the 20th century. Georgette Heyer has always been a part of that project and it was a full on delight this year to have the chance to read The Quiet Gentleman with book group (there were groans but a couple of people found a new writer they liked!), do a whole lecture on Gothic Heyer , write up a Gothic Heyer blog, publish on Georgette Heyer and the Gothic and have people actually interacting with that work.
Something which will impact my life (by haunting my dreams) is the 1950 film version of The Reluctant Widow. If you haven't seen it, it makes some 'interesting' choices… which Lucie Bea Dutton came to tell us all about in her talk 'A Reluctant Movie' – a great opportunity to meet and discuss (and cry 'WHYYYYYYYY?!' with other Heyer readers!)
3) Author Showcases
One of newest things at Romancing the Gothic are the Days of Creation. Workshops, readings, quizzes, art sessions, coding classes… we're doing it all! I really enjoy these days – a chance to relax and explore creativity in lots of different ways. Before I get to my favourite bit of the days, a couple of shout-outs! Writing in the pandemic has been, for me and a lot of people, a real struggle so I've enjoyed our writing workshops. They've given me inspiration and even got a few stories going! It's been fantastic to see what other people are producing out of the sessions as well! Icy Sedgwick's session on Hauntings has given rise to a number of short stories and even a novella! C M Rosens session on world-building has got me being a great deal more meticulous with how I construct my fictional worlds. There were many more and they were all fabulous! The other shout-out is for the visits from and sessions with film-makers – Delphine Bautier, Tanagra and Michelle Garza (thanks to Valeria Villegas Lindval for facilitating). Getting to see the films they've worked on and hear them discuss their work was a treat and a privilege.
The greatest treat of the Days of Creation for me is the author showcase. Writers come and share their short stories, poems and extracts with us and are there to answer questions or talk about their work. There's something thrilling about getting to share you own work (and I've shared a story – see above) but also about hearing work from the author's own mouths. Sometimes it completely transforms what's on the page. You can access the whole playlist here but let me pick out a few that really pulled on my heart strings or sent a shiver down my spine! Now, this is all subjective. All the stories were chosen because they're great but we all have the particular things that get to us the most so take my recommendations for what they are – a reader's guide to my fictional heart.
For sapphic longing – Victoria Audley's 'Epistle'
For sheer creep factor – C M Rosens' 'The Punch and Judy Man of Hangman's Walk'
For 'I will never sleep again' – Angie Wenham's 'To Be Seen'
For second person nail-biting shenanigans – Elena Barrio's 'Marisol'
For haunting folklore – Anna Cheung's 'The Bean-Nighe of Glen Aros' and 'The Haunted Forest'
For ripping your heart out of your chest – Heather Valentine's 'Letter to a Dying Queen from her Immortal Witch'
For body horror – Katalina Watt's 'Lure'
2.) *Romancing* the Gothic
I don't think I've ever made any secret of the fact that I am an avid romance reader so it will hopefully not come as a surprise to anyone that one of my highlights has not been only reading some of my favourite romantical authors for the book club but also introducing them to new people (in some cases with great success) and getting to meet them in author visits to book group!
I'd read all the books above so they weren't new to me but it's a special kind of pleasure getting to read them and discuss with friends. We were very lucky that Lee Welch, EE Ottoman, KJ Charles, Cat Sebastian and Aster Glenn Gray came and joined us to answer questions about their books as well. EE Ottoman also joined us for a Day of Creation to give a workshop on writing historical romance featuring trans characters. It was an absolute dream come true to get to read these books and discuss them with the authors. If anyone wants any recommendations on what to read next, please get in touch. I will positively throw an armful of books at you.
That was far from the end of our author visits though! Another wish fulfilment moment was tied to another romantical supernatural text – Jordan Hawk's Widdershins. It was, again, fantastic to introduce to friends and meet the author and it's particularly important in the history of RtG! We started our twitter breakout book chat group specifically so that we could keep reading this series and chat at leisure. The rest, I suppose, is history!
Not all our guests could visit. A special shout-out to Premee Mohamed who wasn't able to come to book group but did send exhaustive answers to our exhausting questions! 'The Apple-Tree Throne' was a first time read for me and I absolutely fell in love with the book and the characters. It is also the story that has perhaps most stayed with me as I can't stop thinking about all the ideas, interpretations and possibilities that came up in our book club debates. One of our most talked about reads!
Author S T Gibson was our first author visit (for a single novel – we had many amazing authors visit for both the Unspeakable Gothic anthology and Haunted Voices) with her sapphic tale of winter magic and we've all been following her career waiting for the upcoming Dowry of Blood (which I got an ARC for! My first ever!) Jeanette Ng's Pendulum Sun is one of my favourite books of all time and it was amazing to meet her and talk through her magical world and its theology (I know, I know). Another new author to add to my ever-going 'buy immediately' list was CM Rosens. Mel's a RtG regular and her book The Crows blew me away – sentient houses, ace-spec cannibal serial-killing eldritch lads next door, and a practical heroine to die for…
I could go on forever about book club and some of this year's favourite reads and discoveries (The Gilda Stories by Jewelle Gomez and Dread Nation by Justina Ireland are must reads!), our many amazing author and editor visits (Celine Nyx, Mason Hawthorne, Heather Valentine, Jude Reid, Eliza Temple, Ryann Fletcher, Jen Glifort, E. Saxey, Katalina Watt, Rebecca Wojturska, Ali Maloney, Anna Cheung, Connor McAleese, Sean Wai Keung, Maria Haskins, Suyi Davis Okungbowa, Danny Lore, Nibedita Sen (questions answered by email], Leanna Renee Hieber, H. Bentham, KC Cimafranca, Loid Valenzuela, Cindy Dela Cruz, Johanna Lee and Alberto Chimal) and the general delight of reading with friends… but I'll stop before you all die of reading fatigue!
1) Time for Some Cheese, Gromit
It turns out it literally was the friends we made a long the way!
Romancing the Gothic has been a fantastic opportunity to work with people I already know, providing a platform for their amazing work and getting to see what they're doing. From close friends I got to work alongside, to friendships which grew, to new relationships made through contacts and acquaintances, to castle cults growing up from a group of people who randomly found each other through a love of Gothick-y things… it's been the biggest gift of the year.